How Yashica's NLP Sessions Inculcated confidence and positivity in me…
Pooja's (name changed) Success Story of manifesting her Dream Home and Depression-Free Life using 21-Day Life Transformational Program
I manifested my dream home during the sessions, the construction will start probably in October this year…

I manifested a religious paath and bhog ceremony at my home on 12 March.
Hey, today I am totally a different person. A person who is happy, focused, confident, loving, healthy, what else.
But this is a happy side of Pooja (name changed) and for this many thanks to Yashica. I know her from past many years but was not in touch with her. And life has taken many twists and turns in these years.
I got married and shifted to Australia with my husband, due to some family issues I was in emotional stress, depressed and forgot to live. 
One lucky day I was scrolling through Facebook, and saw a post that said: "It's damn easy to live an awesome and happy life."  That word 'happy' stuck in my mind and seeing Yashica in the post I did not stop myself and I called her.
I talked to her and I sensed such positivity in her voice and felt was like now universe wants to help me. I straightway asked her about the program and she guided me. Initially, she took two personal sessions that too on a call.
I can't reveal how much positive her aura was even without her physical presence. That night after talking to her, I did not even take my sleeping pill and went into a deep sleep. Till date, I am sleeping without that pill which I was taking from past many years.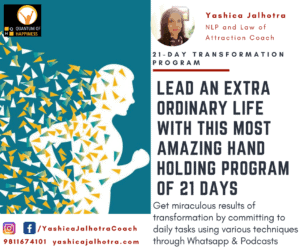 After her two personal sessions, I took her 21 days transformational program and started following her instructions. In the program, she used to assign me tasks almost daily and those tasks included tools and techniques of NLP, Law of Attraction and Meditation that kept me on high vibrations.
I don't believe myself, how I started focusing on positive things, an aura of positivity surrounded me, nice thoughts started coming to my mind. I started forgetting all the pain of the past and my mind became focussed and calm.
These things added to my craziness for that transformational program. I religiously followed her voice, her instructions and during the same, I manifested my dream home for which I was waiting for years.
I started living the same crazy and beautiful life which I used to live in my good old days and now I am spending good quality time with my kids and family, without any pills.
Even my doctor here in Australia is surprised with my happy attitude towards life.
 

I don't know how to thank you Yashica for empowering that belief and positivity in my mind.
But really you have changed my life and I will be thankful to you for this transformation. I will be following you forever….